UKC CH.Sanchez's Crazy In Love ICN
(Loka)
Miss Loka is our 2nd third generation keeper. Her mom is our girl Multi Ch. Fiera Box Von Sanchez. It was a hard choice as she came from 6 beauties. She will be our 1st full euro fawn female. I think she looks alot like her grandsire Fausto. Her grandma Gitana loves her so much. Want to say a big THANK YOU to Laura Rambo of Rambo's Boxers for driving down here to help with breeding and the use of her male Enzo.
Registered Name: Sanchez's Crazy In Love
Call Name: Loka
DOB: March 15, 2020
Color/Markings: Fawn Black Mask with white markings
Champion Bloodline: Yes
Champion Parents: Yes
AKC# WS67842203
UKC# P945-734
ICE # CSI20004333
IABCA#
Sire: PTN NN AN SC SE GrCh. Almadinaks Raz I Navsegda CGC TKI SPOT
(Ch. Pink Panther De Navissios X Ch. Almadinaks Demo-Versia)
Dam: Multi Ch. Fiera Box Von Sanchez
(Fausto Di Villa Hunnicum ICN X Int Ch. Gitana De Villa De Plasan ICN)
Completed Puppy Obedience Oct 1, 2020
Obtain Canine Ninja Level 1 title
Health Testing Results:
ARVC: Pending
Holter: Pending age
Echo: Pending age
Thyroid: Pending age
Show Titles:
International Canine Ninja Level 1
Dog Parkour Level 1
UKC Champion @ 6 Months old
Show Results:
Hutchinson, KS UKC Show Oct 9-11, 2020
S1: 1st B/H, BF, BOW, BOB (Tina Camp)
S2: 1st B/H, BF, BOW (Tracy Doty)
S3: 1st B/H, RBF (Anne Kieffer)
S4: 1st B/H, (Lynn Martin)
S5: 1st B/H, BF (Felicity Trammell)
S6: 1st B/H, BF, BOW (Barbara Trammell)
UKC Texas Classic Nov13-15, 2020 Belton, Tx
S1: Reserve Champion (Lew Olsen)
S2: Champion, Best of Breed, Group 3 (Laura Patton)
S3: Nothing (Tracy Kallas)
S4: Reserve Champion (Anne Kieffer)
S5: Reserve Champion (Roland Pelland)
S6: Nothing (Sheree Sanchez)
UKC Show Addison, Tx March 13, 2021
S1: 1st Champion, BOB, Group 4 (Barbara Trammell)
S2: 1st Champion (Ronny Junkins)
Health Test Resutls and Titles:
Pics of Parents and Grand Parents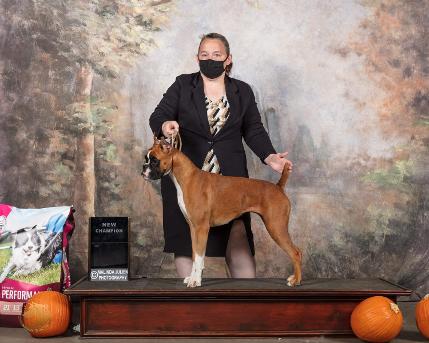 Loka is now 8 Months old and we got her 1st Champion pic done at the UKC Show Texas Classic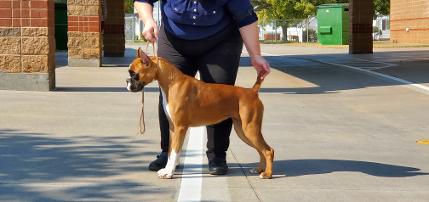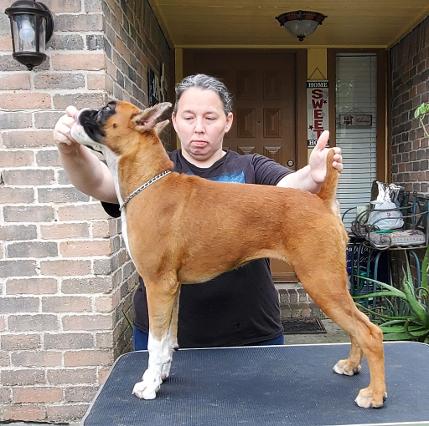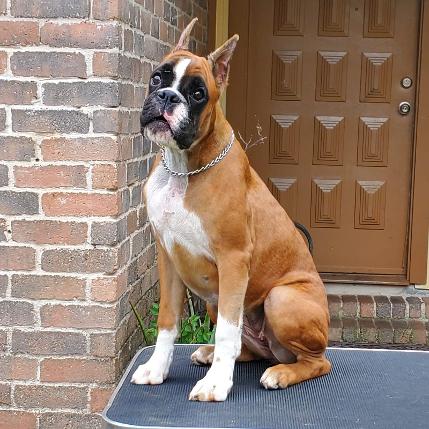 1st 2 pics below are of Loka @ 4.5 month old.