Please be aware we are keeping 2 pups. 1 male from "T" litter and a male or female from the "U" litter




Our "T" litter was born Feb. 14th, 2023. Keno and Loka welcomed 6 beautiful babies to the world. 5 boys (2 Flashy Fawn, 1 Classic Fawn, 1 Checked White, & 1 Solid White. They blessed us with only 1 female. She is a Flashy fawn




Our "U" Litter was born March 3, 2023. Keno and Chiquis welcomed 10 Gorgeous babies. 7 boys (2 Classic Fawn. 3 Flashy Fawn 2 Checked white and 3 girls (2 Flashy Fawn & 1 white Checked
Puppies are choosen by the families @ 6 weeks of age.
We do now take deposits thru paypal using friends and family. We do still offer regular snail mail deposits as well.
Please check our facebook page for more pic's of the puppies /sanchezboxers
All pups born in our home are from planned breeding of 2 health tested parents. They are registered with my kennel name Box Von Sanchez. You may give them whatever call name you like. Once pups are a day old they go in for health check. When they are 3-5 days old they have tails and dewclaws done. They are dewormed at 2.4,6,& 8weeks old (here at home). Trying to limit their exposure to outside germs. When they are 6 - 7 weeks old they get 1st set of pup shots. All pups are seen by our vets Dr Sarah Attia (My Family Vet) and Dr. Pol (Animal Medical Services). They will be ready at 8 weeks of age to leave with new family.
All our puppies eat Diamond Puppy or Diamond Large Breed Puppy
Waitlist is on planned breedings page
More pics can be found on our facebook page under Angie Sanchez or Sanchez Boxers
"T" litter Mom
RACEN NC UKC CH. GPI Ch. Sanchez's Crazy In love BCAT TKN NTD ICN ICECC-CH1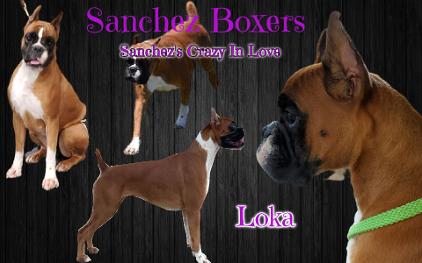 "U" Litter Mom
URO1 UKC GRCH. Hnrs Ch. Sanchez's Covert Affairs CAA DCAT TKI CGC FDC SPOT MCN RCNA UND43 ICECC-CH DPUK-BEFL2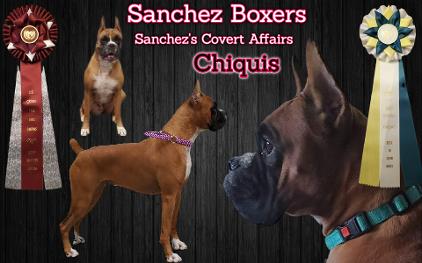 "T" & "U" Litter Dad
URO3 RACEM PTN NNAC SI GRCH. Rambo's Wicked End Game DCAT CGCA CGCU TKN SPOT-ON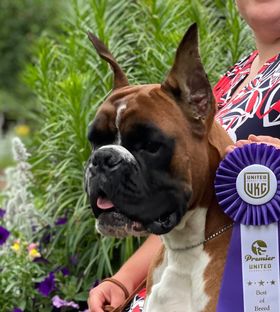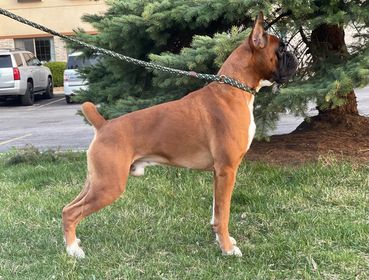 Males:
"T" Litter has 5 Males (2 Flashy Fawn, 1 Classic Fawn, 1 Solid White, & 1 Checked White)
Tigger Box Von Sanchez (White Checked)
Tito Box Von Sanchez (Solid White)
Taz Box Von Sanchez ( Classic) - RESERVED
Tango Box Von Sanchez (Flashy Fawn) On Hold
Theo Box Von Sanchez (Flashy Fawn)
"U" Litter has 7 Males (3 Flashy Fawn, 2 Classic Fawn. 1 Solid White, & 1 Checked White) (Names pending)
Red (Classic Fawn)
Mustard (Flashy Fawn)
Blue (Checked White)
Black (Flashy Fawn) On Hold
Purple (Flashy Fawn
Tan (Classic Fawn)
Burgundy (Solid White)
Females:
"T" Litter has 1 Female (Flashy Fawn)
Talia Box Von Sanchez (Reserved)
"U" Litter has 3 Females ( 2 Flashy Fawns & 1 Checked White)
Magenta (Checked White)
Lilac (Flashy Fawn) On Hold